Isn't it amazing how fast
can turn into 
  when a snow day turns into an extended snow weekend.
So you've had the cocoa and built the snow man, now what?  Here are few ideas to ward off the chorus of "I'm bored"
How about some Christmas Origami to liven up your tree or to give as gifts.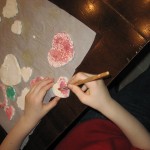 Salt dough ornaments are an inexpensive craft that can be a beautiful addition to your Christmas tree, used to decorate gifts or even be given as gifts themselves.  If you have a gluten allergy in the family or if you want a smoother finish for your ornament try this recipe  using corn starch.  
Not enough snow outside your windows?  Bring the fun inside with 3-D snowflakes,  Snowman Pizza or snow dough.
Have more ideas for fun on a snow day?  Please share in the comments or on our  Facebook page.